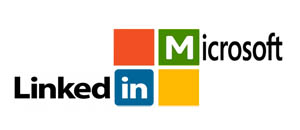 Macro Acquisition by Microsoft the American Multinational Technology Company is all in the news for its biggest acquisition of LinkedIn. Microsoft has numerous acquisitions to date with a total of 196 acquisitions. Its first acquisition started in 1987 with an average of six companies per year. It had the highest acquisition rate between 2005 and 2008 by purchasing more than ten companies a year, and in 2006 alone it acquired 18 firms. The following are the 17 highest acquisitions (year wise) of Microsoft till date.
Macro Acquisition by Microsoft
| | | | | |
| --- | --- | --- | --- | --- |
| S.No | Company | Business | Year | Estimated Value (USD) |
| 1 | WebTV Networks | Internet Service Provider | 1996 | $425 million |
| 2 | Hotmail | Internet Software | 1997 | $500 million |
| 3 | Linkexchange | Internet Advertising Network | 1998 | $265 million |
| 4 | Visio Corporation | Wholesale Drawing Software | 2000 | $1.3 billion |
| 5 | Great Plains Software | Business Management Software | 2001 | $940 million |
| 6 | Navision | Software Programming | 2002 | $1.3 billion |
| 7 | Rare | Software and Video Games | 2002 | $375 million |
| 8 | Placeware | Web Conferencing | 2003 | $200 million |
| 9 | Groove Networks | Community Software | 2005 | $171 million |
| 10 | Massive Incorporated | Video game advertising | 2006 | $280 million |
| 11 | TellMe Networks | Mobile Phone Software | 2007 | $800 million |
| 12 | aQuantive | Digital Marketing | 2007 | $6.3 billion |
| 13 | Danger | Mobile Internet Software | 2008 | $500 million |
| 14 | Fast Search & Transfer | Enterprise Search | 2008 | $1.2 billion |
| 15 | Greenfield Online | Search & eCommerce sites | 2008 | $486 million |
| 16 | Skype Technologies | Telecommunications | 2011 | $8.5 billion |
| 17 | Nokia Mobile Phones Unit | Mobile Phones & Smart Phones | 2013 | $7.2 billion |
Mid 2016 saw Microsoft moving a step further and acquiring LinkedIn valued for $26.2 billion with $196 per share. It was announced that LinkedIn C.E.O. Jeff Weiner will be continuing with his current role and reporting to Microsoft CEO, Satya Nadella. Besides the acquisition, LinkedIn will further continue to operate as an "independent brand,"
LinkedIn, the world's largest professional networking
The site was founded by Reid Hoffman in 2002. It is the Facebook of the professional world and the storehouse for resumes of professionals. In February 2016, LinkedIn had its worst day ever, with shares tumbling as much as 44 percent and also suffered a huge data security infringement, wherein 117 million profile passwords were hacked and put for sale on the black market which also included high-profile users like Facebook C.E.O. Mark Zuckerberg. Due to these tumbling shares, LinkedIn was at the lowest cost to be bought and since LinkedIn is the only biggest professional social networking site with 433 million users, Microsoft aimed at becoming the Market Leader with this acquisition. As a result of this acquisition, LinkedIn would also grow faster and will be appearing as a default feature in all the Microsoft related devices and software.
The whole environment of LinkedIn has changed after its Macro Acquisition by Microsoft, now it is not just about having a profile and finding a job in LinkedIn, but finding a suitable economic opportunity. LinkedIn isn't just a social network anymore- it's a means to track down opportunities and find and develop the skills that keep you competitive.
What is it that actually made Microsoft acquire LinkedIn?
How is LinkedIn useful to Microsoft? People across the world have been waiting for the silence to break. Well, Microsoft CEO Satya Nadella himself has disclosed that generally in the US, LinkedIn is used for searching for jobs and connecting with colleagues or work-related people across the world. Microsoft will utilize LinkedIn information to enable applications like Delve, which is already a part of Office 365.
With the combination of Office 365 and LinkedIn, the LinkedIn newsfeed will display articles related to the project one is working on and also suggestions to connect with related experts. Accordingly, the LinkedIn and Office 365 combination would grow and give way for new opportunities for the individuals. In addition, LinkedIn will be surfaced in Microsoft related apps like Outlook, Skype, Office, and even Windows. Microsoft is working on to turn LinkedIn profiles into central identity, its newsfeed into a smart stream of data that helps connect the professionals to one another through shared notes, meetings, video conferencing, and email activity.
LinkedIn, in turn, gathers detailed information about its users which includes their education, resume, employment history, their contacts, etc. This data is much valuable to Microsoft, as it takes this information and utilizes it to help build offers for managing relationships. The core idea of both LinkedIn and Microsoft working together is to uplift productivity and make them essential for every individual. When it comes to gathering the information of any individual, privacy concerns surface.
Microsoft CEO has briefed that "nothing will get connected or linked without users opting in". By making Office 365 a more powerful application, Microsoft sells more Office 365 subscriptions, particularly to enterprises and small businesses. With a total of 1.2 billion Office users, and 70 million Office 365 monthly users, and 433 million users LinkedIn, Microsoft aims to make both the networks essential. There is also an IP dimension to this huge acquisition. LinkedIn is said to have more Patents than any other social networking site and also its patent holdings are stronger in the US. LinkedIn has a total of 1,660 active Patents, among which 1,085 are active US patents and 206 are the original patents of LinkedIn.
One of the most striking Patent acquisitions by LinkedIn
was in 2015 by purchasing 801 patents from IBM. Along with IBM, LinkedIn also purchased patents from other firms like AT&T, Yahoo, Cisco, etc. This would surely add as one of the benefits of Macro Acquisition by Microsoft. Within days after the acquisition of LinkedIn by Microsoft, capitalists looked around to check which other firms Microsoft might have their eyes on. After Microsoft news about its acquisition, shares of Twitter rose about seven percent hoping that Microsoft would make the sale of this struggling social media. Twitter investors wishing for a LinkedIn style Macro Acquisition by Microsoft. But one should know that every tech firm is not lucky enough to have a Macro Acquisition by Microsoft.
Check out our recent post – https://prometheusip.com/copyrights/copyright-for-businesses-in-2020/