The existence of Alcoholic drinks can be dated way back to thousands of years. Alcoholic drinks have been consumed for various reasons- supplying nutrition and energy; providing medicinal, antiseptic, and analgesic benefits; quenching thirst; to relieve stress; social gathering and amplify the pleasures of life. Alcohol is typically divided into 3 classes- Beer, Wine and Spirits. From the world's oldest prepared beverage- Beer, to the new age Flaming cocktails; the alcohol preparation and consumption has evolved with time.
What actually hides in the glass of alcohol that you hold!! – It's the Invention. One could patent the alcohol; either for the new methods of making alcohol or for the equipment making alcohol. The alcohol industry is constantly inventing new technology.  Difference in usage of types and amounts of ingredients like hops, herbs, yeasts, and barley give rise to unique chemical properties.  Such sorts of innovations can be patented for the new composition.
Well, these new methods of preparing alcohol would in turn lead to invention of new equipment used for making alcohol. This brewing equipment has improved in course of time with respect to selection of quantities, mixing, temperature, etc.
Alcohol can be brewed in brewery or at home using home brewers. Though brewing of alcohol at home is prohibited in many countries, it has been in practice since 7,000 years, during which Beers, fruit wines, rice wines and Meads were produced. But, why does one need to brew alcohol at home when it is readily available in market? Well, there are various reasons for brewing the alcohol at home; to avoid high cost of beverages available in market, to brew alcohol according to one's preference, etc.
Early home brewing procedures involved the use of open fires which had drawbacks like giving the brew a smoky taste and also difficulty in controlling the temperature. These two drawbacks were later overcome by the invention of Steam engines along with thermometers. Subsequently, with the rise of hydrometers, one could monitor the density of the liquid and also it helped in brewing variety of new styles. Home brewers range from hobbyists to crafting boutique beers. Home brewing has emerged from early civilizations that brewed with a cup and fire, to today's highly technological procedure. Home brewing has grown exponentially in the recent years.
Home Brewing machines are box full of technology inventions which attract the patent lovers to explore. There are numerous home brewing machines patented for their technology. One such invention is, WilliamsWarn Personal Brewery: It is the first personal brewery launched in 2011 and invented by Ian Williams and Anders Warn.
The result of this invention is cold, perfectly carbonated, clear, professional quality beer made in 7 days.
Everything is digitalized in the present world, so is the brewing process. Brewbot is one such invention that includes both software and hardware.
It is a single touch brewing machine that brews a wide variety of beers. This specifically uses sensor technology to track and automate the process. From choosing the recipe to brewing the alcohol is managed from the palm of our hand. The brewing process roughly takes about 5-8 hours of time and has an output volume of 25litres. The mobile app guides you throughout the process and gives a nudge when something is required to do in the process; also there are wide range of inbuilt recipes and recipes from craft brewers across the world.
Another similar invention of digital brewer is the Minibrew. This cute little brewer was invented by Bart van de Kooij and Olivier van Oord along with brew technologist, Ko Hendriks and software developer, Adrien Jeanjean.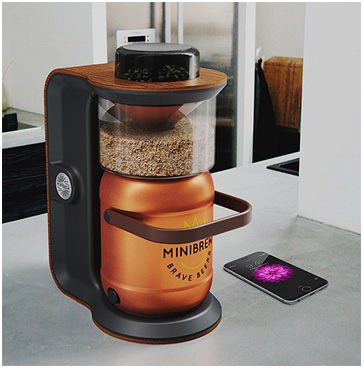 Everything runs on the app, it discovers the recipes based on the individual's taste and preference. The required ingredients are packaged and delivered at the door step and the app helps you to fill in the Minibrew for brewing. It also monitors every phase on the smartphone from mashing stage to fermentation stage. The brewing stage takes about 3.5 hours followed by fermentation which can take from a week up to several months of time depending on the recipe.
Technology is changing day-by-day. Brewing has become lot smarter- from huge commercial brewers to cute mini brewers that could be placed on our kitchen counters. One touch is all you need. Hey technology lovers… Hoping for a pint size brewer soon.