The
converses with 
. From 
to
all generations are familiar with one common platform while conversing and that's exactly what we are discussing today – EM
JI.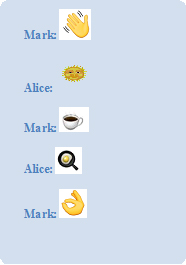 The pictorial conversation shown, does not need any explanation. Well, for your convenience it goes like this:
Mark: Hi
Alice: Good morning!!
Mark: I am having coffee
Alice: Well, Am making breakfast.
Mark: That's nice!!
In the present generation, the language of
 has become an easy and entertaining way to communicate with anyone. This fun to use
 was created in
 by Shigetaka Kurita, a former employee of 
  company, NTT DoCoMo. He was working for the first mobile internet platform called "i-mode". The goal of his project team was to provide internet service on
 in 
. As earlier
 had small LCD screen that could fit in only  
 letters. With this limited space it was hard to send enough information.
With the inspiration from the
and also the
weather forecasts, which always included pictures or symbols for describing the weather condition and  in 
, people drew expressions like a person with
 when tired or a
when someone gets an idea.
Kurita started to think that having a picture would be better that having long text and took the ability to express ideas in a single character. Hence, he recommended adding
 in i-mode. Soon his proposal was accepted. Though not a designer himself, Kurita set to work, drafting the first
 or so emojis himself in just
 days.
As
 were adept to using pictures/ symbols to express feelings, the
 were an immediate success in
. Though it took
 years to spread across overseas, it is now available in every
 as a separate keyboard.
In order to know the expression of people clearly, Kurita went into
 and watched their expressions. He tried to understand the expressions clearly to create the
. Furthermore, he realized one common thing that most of the emotions are universal. So, one
 was enough to express one emotion which could be understood by anyone from any part of the
.
According to a survey,
 of
–
year olds prefer to express their feelings through
 than text and
 of people were surveyed to use
 in half of their text messages.
The popularity of
 is increasing rapidly. Fooji, a
  service in New York takes orders for lunch by tweeting them with
 of the desired
 to be ordered. Even Dominos has launched #OrderWithATweet wherein customers can order by using a
. Even celebrities are getting into the act of using Emojis while tweeting their updates. In the present world where
 marketing is considered spam and deleted instantly, several services are allowing
 in the subject line in order to boost up the engagement.
 have changed the way we express ourselves through text. Not only people but companies too are adapting this new way of communicating. Now, there is one common
 that has arisen- why do people love these  when they have an option of text messages? The answer is simple- it's harder to express through text. There are no facial expressions or gestures in text messages, and also it's the easier way to communicate. For example, if someone is angry, would it be better to say "am very angry" or "
"? Obviously,  
 would convey the feeling better.
Well, like any other creation, even
 are to be protected from copying. Here, a much difficult
 arises…. How can  
be protected under
 Act? Truly,
 are considered Typefaces and Typefaces are not Copyrightable under the 1909
 Act. The reason behind Typeface being not copyrightable is that
 is an industrial design in which the design cannot exist independently and separately as a work of art. However, this does not stop the designers in this digital age from
 protection for their work. As per the
 Office, designers can register
 in the software used to create and display their typefaces on
.Designers can then license that software, even though the actual letters and numbers produced by the software would be unprotected under
 law.  
Office has revealed that so far only one company has registered a distinguished Emoji set:
.
One of the amusing ways to communicate through
is by using the animated
. The  
  are animated and are about
 of them that are formatted in animated GIFs. They are much different from the iPhone
. These help one to express their feelings in a much better way. Apart from the
 faces,
also includes animated
 in various colors and a collection of white
 gestures.
A more conservative option is to ensure that each display of an
 is properly licensed. An organization may also wish to create its own
 set based on the Unicode standard to avoid
 issues. However, Organizations that choose this option should be careful not to copy  
 set. And also should take care to make sure not to copy the software code for an
 font set without authorization; as this would be a clear
 violation. They should also be careful not to use copyrighted code as the basis for creating a new
 set.
As people become more habitual to the usage of
, the demand goes
 for better and improved
. The
 future appears to be a bright one as people continue to use them for better expressing their emotions through messages in an enhanced way.